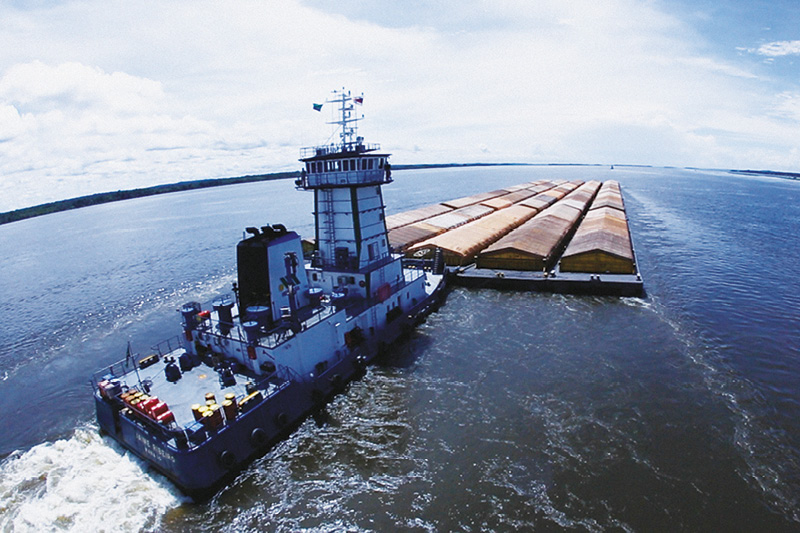 AMAZONAS, BRAZIL, November 28, 2022 – Brazil Potash Corp. ("Brazil Potash" or the "Company") continues to advance its Autazes potash project ("Project") towards construction with submission of the Indigenous Consultation Study ("ECI") and completion of an update of the engineering technical report, which includes projected costs and economics for the Project.
There are 78 items that need to be completed and approved by various Brazil government agencies to obtain the Installation License, which is required to be fully permitted to start Project construction.  Brazil Potash has completed and obtained approval on 76 of these items and recently submitted item 77 – our ECI – to Brazil's government indigenous rights protection agency, FUNAI. According to Brazilian law, FUNAI has 90 days to review and provide a response to Brazil Potash on this document, which ideally will be its approval.  Once the ECI is approved by FUNAI, the 78th step is for Brazil Potash to provide the Amazonas Environmental Protection Institute (IPAAM) with FUNAI's approval of the ECI, including the following three indigenous support programs: (i) Program of Support to Indigenous Communities, (ii) Program of Social Communication, and (iii) Subprogram of Environmental Education.  Upon submitting this documentation to IPAAM, Brazil Potash is seeking reinstatement of our Preliminary License from the Court overseeing this process so IPAAM can then issue the Installation License.
Management recently updated the engineering, cost and economic technical report to provide a current view on key Project metrics in preparation to raise funds for Project construction.  A high-level summary of the latest 2022 technical report metrics versus our last comprehensive study, completed in 2016, is that the escalation in costs – both construction capital and operating expenses – is more than offset by a structural shift upwards in potash sales price (primarily due to sanctions on Russia and Belarus hindering both current production and future anticipated supply growth) plus a favourable exchange rate resulting in higher economic returns for investors.  The table below provides a summary of the key metrics along with a brief explanation of the changes.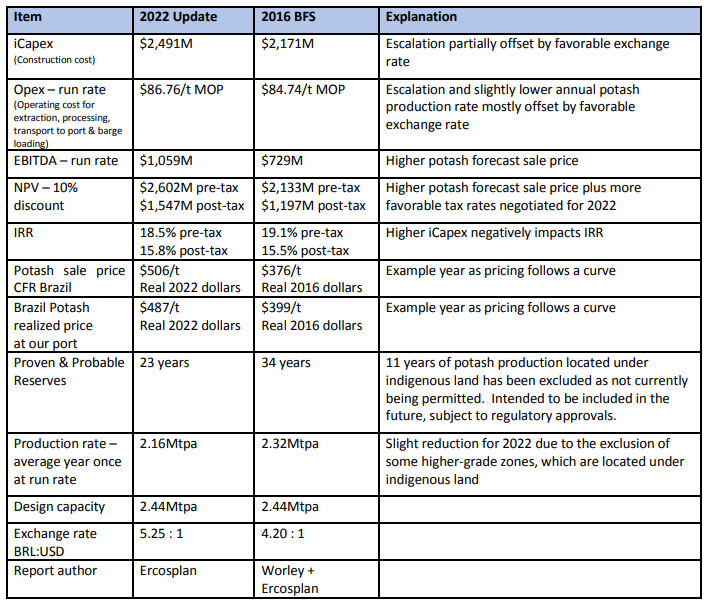 The findings from the updated technical report reinforce our view on the economic attractiveness of the Project and its potential to transform the Brazilian agricultural landscape and serve as a platform for future growth once in production.
Finally, to raise further awareness of Brazil Potash, highly regarded firm Virtual Capitalist has been engaged to create a series of educational infographics and a spotlight page on Brazil Potash.  The first of several publications can be seen by clicking on the following link: https://www.visualcapitalist.com/sp/where-does-our-food-come-from/
About Brazil Potash
Brazil Potash has advanced its large-scale development stage potash project to a near construction ready state.  Brazil is one of the world's largest and fastest growing consumers of potash but imports more than 95% of its needs at high cost.  As a result, over 1.3 million tonnes of Greenhouse Gas emissions are unnecessarily generated from maritime transportation and potash production in jurisdictions with higher emission factors.  Brazil Potash's sylvanite ore body is in Brazil beside a major river, which will enable the company to extract, process and deliver potash for the same cost that importers pay for transportation alone.  The company has completed a feasibility study, EISA and obtained the majority of the permits required for project construction.
For more information, please contact:
Brazil Potash Investor Relations
info@brazilpotash.com
---
Cautionary Note Regarding Forward-Looking Statements
All statements, other than statements of historical fact, contained in this press release constitute "forward-looking statements" and are based on the reasonable expectations, estimates and projections of the Company as of the date of this letter. The words "plans," "expects," or "does not expect," "is expected," "budget," "scheduled," "estimates," "forecasts," "intends," "anticipates," or "does not anticipate," or "believes," or variations of such words and phrases or statements that certain actions, events or results "may," "could," "would," "might," or "will be taken," "occur" or "be achieved" and similar expressions identify forward-looking statements. Forward-looking statements include, without limitation, statements regarding the updated technical report, technical report key metrics and forecasts, the submission of the ECI and the timelines to secure the Installation License, , anticipated reductions in greenhouse gases, indigenous consultation process, completion of studies and assessments, the receipt of the installation licence and conditions precedent thereto including progress of Indigenous consultations, environmental or community benefits, governmental support of the Autazes project, job creation and skills training for local communities, the growth of the potash market, expected industry demands, the Company's business strategy, currency fluctuations, government regulation and environmental regulation. Forward-looking statements are necessarily based upon a number of estimates and assumptions that, while considered reasonable by the Company as of the date of such statements, are inherently subject to significant business, economic and competitive uncertainties and contingencies. The estimates and assumptions contained in this letter, which may prove to be incorrect, include, but are not limited to, the various assumptions of the Company set forth herein. Known and unknown factors could cause actual results to differ materially from those projected in the forward-looking statements. Such factors include, but are not limited to fluctuations in the supply and demand for potash, changes in competitive pressures, including pricing pressures, timing and amount of capital expenditures, changes in capital markets and corresponding effects on the Company's investments, changes in currency and exchange rates, unexpected geological or environmental conditions, changes in and the effects of, government legislation, taxation, environmental regulations, controls and regulations and political or economic developments in jurisdictions in which the Company carries on its business or expects to do business, success in retaining or recruiting officers and directors for the future success of the Company's business, officers and directors allocating their time to other ventures; success in obtaining any required additional financing to develop the Autazes project; employee and community relations, and risks associated with obtaining any necessary licenses or permits. Many of these uncertainties and contingencies can affect the Company's actual results and could cause actual results to differ materially from those expressed or implied in any forward-looking statements made by, or on behalf of, the Company. There can be no assurance that forward-looking statements will prove to be accurate, as actual results and future events could differ materially from those anticipated in such statements. All of the forward-looking statements made in this letter are qualified by these cautionary statements. These factors are not intended to represent a complete list of the factors that could affect the Company. The Company disclaims any intention or obligation to update or revise any forward-looking statements, except to the extent required by applicable law. The reader is cautioned not to place undue reliance on forward-looking statements.