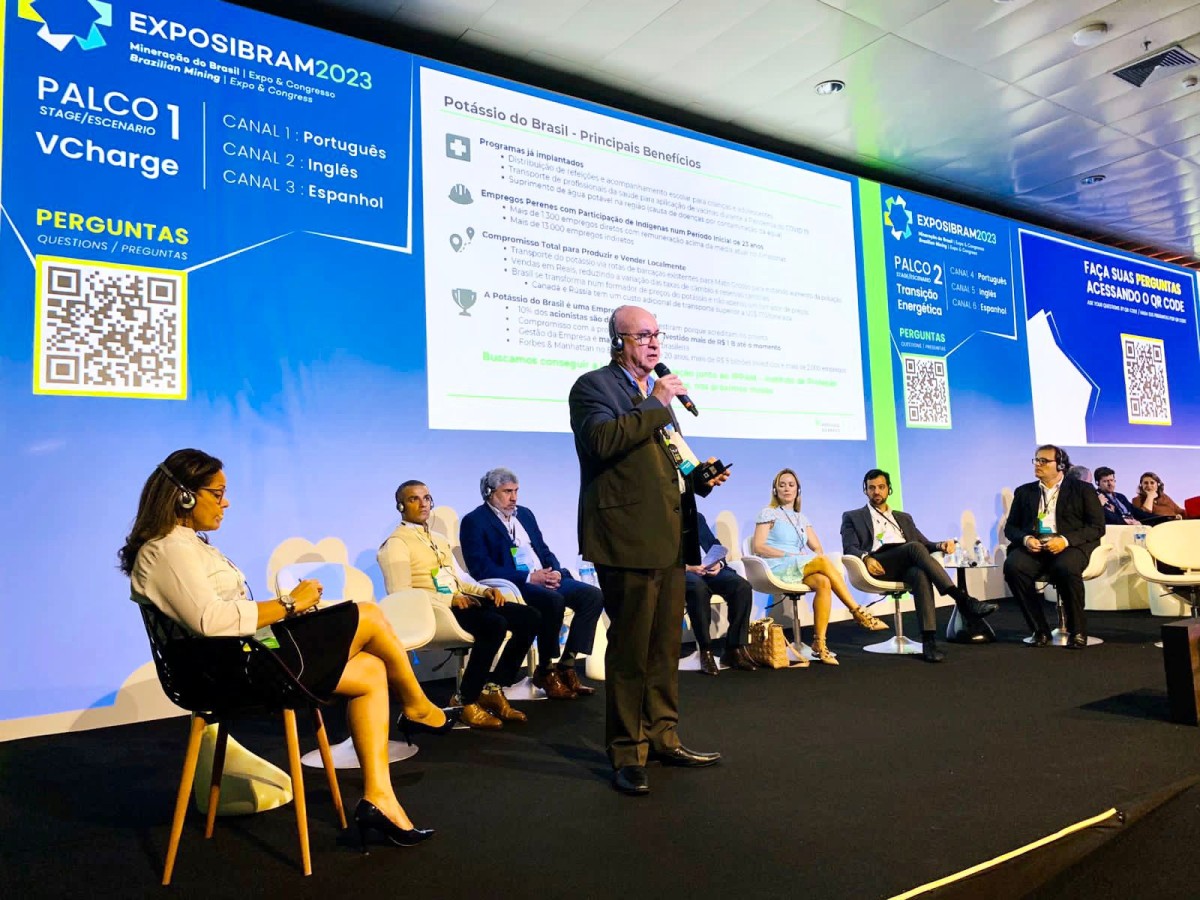 Adriano Espeschit, President of Potássio do Brasil, a subsidiary of Brazil Potash, took part in the "Public Policies for Strategic Minerals in Brazil" panel at the Expo & Brazilian Mining Congress (Exposibram 2023) on August 30th, from 9 AM to 11 AM. This event is one of the most significant mining gatherings in Latin America, organized by the Brazilian Mining Institute (Ibram), and it was held from August 28th to 31st at the Hangar Centro de Convenções & Feiras da Amazônia in Belém, PA.
During his panel presentation, President Adriano Espeschit underscored the strategic role of the Autazes Potash Project for both Brazil and the world, particularly in the context of food security. He noted, "Potássio do Brasil can assist Brazilian agribusiness by providing up to 20% of potassium chloride supply. This is crucial, as in agribusiness, we are entirely reliant on imports, accounting for 98% of our consumption."
Furthermore, President Espeschit presented vital statistics about the Autazes Potash Project and its foundation deeply rooted in Environmental, Social, and Governance (ESG) principles. Potássio do Brasil's project was also showcased by the company's representatives at their exhibition booth, which welcomed over five thousand visitors.
Exposibram 2023 brought together mining companies, suppliers, representatives from research institutions and universities, business and government delegations from various nations, professional associations, companies, and public sector entities. It provided a valuable opportunity to discuss industry trends and current scenarios in the mineral sector.
Notable figures such as Ediney Drummond, CEO of Lundin Mining Corporation; Fabiano Costa, President of AMG Brasil; José Luís Gordon, Director of Productive Development, Innovation, and Foreign Trade at BNDES; Rohitesh Dhawan, President of the International Council on Mining and Metals (ICMM); Ana Cabral-Gardner, Co-founder of Sigma Lithium; and Ronaldo Lasmar, Executive Commercial Manager at Mineração Taboca, also participated in the panel discussion. The session was expertly moderated by Silvia França, Director of the Center for Mineral Technology (Cetem).
This marks Potássio do Brasil's second consecutive participation in Exposibram. The company remains attentive to the evolving demands and developments in the mining sector, actively engaging in events, conferences, and exhibitions to ensure that the contributions and significance of the Autazes Potash Project continue to be recognized by society.
Content Produced by Potássio do Brasil